Quinceanera
Quinceanera at The Seville with an authentic Mexican dinner and elite experience.
Chicagoland Quinceanera Venue & Authentic Mexican Cuisine
The Seville is proud to be a premier venue in Schaumburg and the greater Chicagoland area to celebrate your daughter's Special day. Looking for a memorable Quinceanera celebration in Chicagoland? Look no further than our venue, featuring elegant decor, spacious ballroom, and experienced event coordinator. Our menu includes authentic Mexican cuisine, with options to accommodate any taste preference and dietary restrictions. Celebrate this special milestone with us and create memories that will last a lifetime. Contact us today to learn more and book your celebration.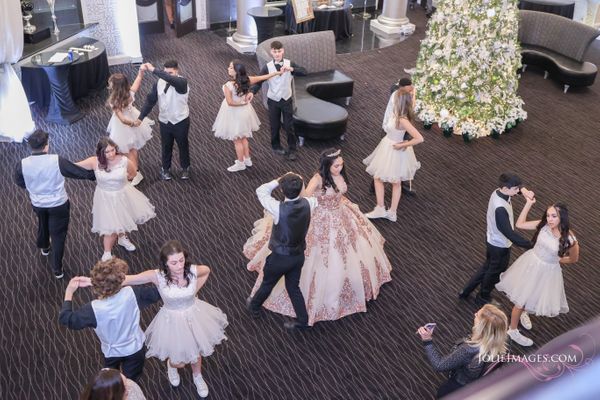 Why Consider Our Quinceañera Package?
Delicious Authentic Mexican dinner
Open bar with premium liquor
Top-of-the-line digital uplighting
Exquisite chiavari chairs
White glove butler hors d'oeuvre service
Decadent four-foot chocolate fountain
Late-night snacks
Sparktacular Sparkler 'wow' effect
Upgraded linens
And more upon request!
Your Daughter Deserves The Very Best
Experience the Quinceañera of Your Dreams at The Seville. This special event celebrates your life and dreams as you are recognized as a remarkable young woman, surrounded by beloved family and friends.
Our elegant and spacious venue is the perfect location to celebrate this important milestone in a young woman's life. Our venue is designed to provide a beautiful and memorable experience for both the Quinceanera and her guests.
Our venue offers a variety of amenities to make your Quinceanera celebration unforgettable. We have a large ballroom with elegant chandeliers and a spacious dance floor, perfect for the traditional waltz and other dances.
Our team of experienced event planners is dedicated to making your celebration stress-free and enjoyable. We offer a variety of packages to meet your needs and budget, including catering, decoration, and entertainment services. Our catering team provides a delicious and customizable menu that can accommodate any dietary requirements.
We also have a state-of-the-art uplighting to create the perfect ambiance for your celebration.
Traditional Mexican Cuisine
Our experienced chefs have crafted a menu that highlights the best of Mexican cuisine, using fresh ingredients and traditional recipes to create a memorable dining experience. We take pride in offering a wide variety of options to accommodate any taste preference, dietary restrictions, and budget.
For your Quinceanera celebration, we recommend starting with our flavorful appetizers, including chicken quesadilla or beef flautas served with Chips & salsa / pico de gallo during cocktail. These dishes are sure to whet your guests' appetites and set the tone for an unforgettable dining experience.
For the main course, we offer a selection of classic Mexican dishes that are sure to please your guests. Some of our favorites include:
CHICKEN FAJITAS with a compliment of sautéed Spanish onions, tomatoes and bell peppers.
MEXICAN STYLE STEAK Addictively rich Mexican style steak served with tomato, onion, jalapeños, and potato
PORK STEW – An authentic Mexican pork stew made with dried guajillo chiles
Our menu can be customized to meet your specific needs, including vegetarian or gluten-free options, so everyone can enjoy the delicious flavors of Mexican cuisine.
At our Chicagoland Quinceanera Venue, we understand that every celebration is unique, and we strive to make each one special and personalized. Whether you want a grand celebration or an intimate gathering, our venue is the perfect choice for your Quinceanera. Contact us today to learn more about our packages and book your celebration at our venue.
Contact us today to learn more about our packages and book your celebration at our venue. For a custom quote, please call us at 630-289-4500.